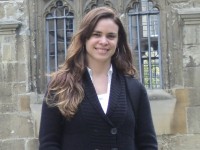 Chalini Barros, student in the Communication and Contemporary Culture PhD Program of the Federal University of Bahia, will be, from September 2012 and March 2013, integrated in project's work team. She is developing her work around the theme "Communication Democratization: comparative analysis of the broadcasting regulatory changes in Mercosul's countries".
Graduated in Social Communication by the Federal University of Sergipe (2005), she finished her master degree in Communication and Contemporary Culture by the Federal University of Bahia (2009) and she has a scholarship from CAPES Program.
Chalini is the author of the book "Broadcasting and Telecommunication: the Brazilian normative untying paradox", edited by Edufba, in 2010.
Curriculum vitae available on:  http://lattes.cnpq.br/2809165635300769