Digital Literacy, Technology and Social Inclusion. Making sense of one-to-one computer programmes around the world.
Sara Pereira (Ed.) CECS/Ed. Húmus, Lda. 2015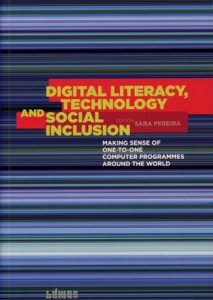 Famalicão
ISBN: 978-989-755-046-5 (paper)
ISBN: 978-989-755-049-2 (E-book)
pp. 376
Edited in English, the book is the result of the research project CECS/FCT that the researcher Sara Pereira coordinated, titled "Navigating with Magalhães: Study on the Impact of Digital Media on Children" (PTDC/CCI-COM/101381/2008). This study was conducted between May 2010 and May 2013, at the CECS-UMinho, with the main objective to analyse the impact of the "e-escolinha" programme of the Portuguese government launched in 2008 as part of the Technological Plan for Education.
More information here.
Índice
Acknowledgements
Notes on Contributon
Foreword
Manuel Pinto
Introduction
Sara Pereira
1. THE PORTUGUESE PROCRAMME ONE LAPTOP PER CHILD: POLITICAL, EDUCTIONAL AND SOCIAL IMPACT, p. 29
Sara Pereira, Luís Pereira, Ana Melro
2. THE EVOLUTION OF THE ONE-LAPTOP-PER-CHILD MODEL IN URUGUAY, p. 101
Ana Rivoir, Susana Lamschtein
3. TECHNOLOCV FOR INCLUSION AND CHANGE: A COMPARATIVE RESEARCH ON ONE-TO-ONE IN ITALY, ETHIOPIA AND BRAZIL, p. 129
Magda Pischetola
4. ONE LAPTOP PER STUDENT IN SPAIN: AN ENDED EXPERIENCE?, p. 165
Mônica Pegurer Caprino, Juan Francisco Martínez Cerdá
5. DIGITAL TECHNOLOCV IN PUBLIC EDUCATION. ONE LAPTOP PER CHILD PROCRAMME IN PERU, p. 197
Ana María Cano Correa
6. THE APPROPRIATION EXPERIENCE OF XO COMPUTERS IN FAMILIES AND COMMUNITIES BENEFITING FROM PLAN CEIBAL IN URUCUAY, p. 217
Rosalía Winocur, Rosario Sánchez Vilela
7. OLPC IN THE STATE OF GOIÁS-BRAZIL: BETWEEN PEDAGOGICAL OBJECTIVES AND TEACHING PRACTICES, p. 245
Adda Daniela Lima Figueiredo-Echalar, Joana Peixoto
8. TYPOLOGIES OF DOCENT KNOWLEDGE IN THE "ONE COMPUTER PER CHILD" PROGRAMME: TRAINING, SOCIAL TRAININCGAND COGNITIVE REFLEXIVITY, p. 263
Akynara Aglaé Rodrigues Santos da Silva Burlamaqui, Maria das Graças Pinto Coelho Sousa
9. MASSIVE INCLUSION OF DIGITAL TECHNOLOGIES IN SCHOOLS. ARGENTINIAN YOUNG ADOLESCENTS' APPROPRIATION OF COMPUTERS AND THE INTERNET IN POPULAR AND MIDDLE CLASSES, p. 291
Sebastián Benjitéz Larghi, Nicolás Welschinger Lascano
10. MODEL 1:1, AN ARCENTINIAN VIEW, p. 321
Walter Temporelli
11. CHILDREN'S PRACTICES OF ICT AND SOCIAL INEQUALITIES: ON THE USES OF THE MAGALHÃES COMPUTER IN TWO SCHOOL COMMUNITIES, p. 345
Pedro Silva. Ana Diogo, Conceição Coelho, Conceição Fernandes, Joana Viana