Workshop Sessions

 | instructions on how to register for workshops will soon be available |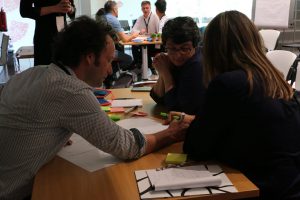 W1 – Journalism education in liquid times: New journalism teacher profiles | Chris van der Heijden and Judith Popken (Hogeschool Utrecht, Journalismlab, The Netherlands) | Sala de Atos (0.02)
In earlier days journalists and opinion makers knew quite well what journalism and certainly what quality journalism was all about (Bardoel, 1996, Gans, 1979) and what elements were needed in journalism education (Becker, 2003). This has changed completely nowadays, with much debate and uncertainty about journalism education as a result (Huang et al., 2006; Newton, 2013). The explanation for this uncertainty can be traced back to uncertainty about journalism itself – its content, form, function and professional role and to a society in which everything is constantly in flux, a so-called liquid society. Such a society entails fluid journalism (Bauman, 2000, Deuze, 2008).
While there is much scholarly debate about which skills to learn and which didactical approaches to use (Bakker, 2014; Huang et al., 2006), there is little known about how the role of the journalism teacher should be fulfilled within these new teaching environments. In general educational publications on teaching practices traditional classroom roles are clearly defined. For example, teachers can behave like controllers, like prompters or can just be a source of information for their students. (Harmer, 1991). Yet in more vocational learning environments, the need for teachers with a wider range of roles seems to be growing (Nieuwenhuis, Coenen et al., 2012). For example, Zitter and Cox (2016) state that a teacher should also form a strategical link between school workplace.
In this workshop we want to analyse and discuss the changing role of journalism teachers to meet the demands of future journalism practice in fluid times. The goal of this workshop is to obtain a better grip of how lecturers guide students to deal with uncertainties and operate in a fluid society. More specifically, by using design thinking method, we will work during this workshop on the formulation of a problem statement on what dilemma journalism lecturers face exactly in guiding students to prepare themselves for an unknown future. After this, we will make a first step in sharing and formulating concrete teaching methods that lecturers can apply to guide students.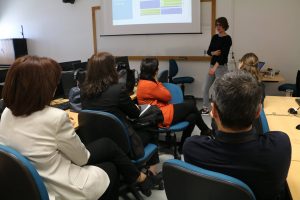 W2 – The lifelong learning educator: Creating participatory, innovative and reflective learning communities in J-schools | Karlijn Goossen (Ede Christian University of Applied Sciences, The Netherlands) | createLab (0.06)
During the School of Journalism at CHE (Ede Christian University of Applied Sciences, The Netherlands) four-year BA program, there is focus on developing innovative teaching formats that engage students (as well as media partners and lecturers) to train practical skills exclusively in real world professional contexts (Newton 2013). This educational setting is combined with participative lectures and dialogic seminars aimed at enriching these gained professional and personal experiences of the students with theoretical underpinning and reflective practices (Ahva 2013; Deuze & Witschge 2018; Ramaker etal 2015). For example, upon returning from a five months internship, third year students are challenged to experiment with actively take their experiences as editors, researcher, reporters or (ca)mojo's and deepen these with theories of journalism, conceptual frameworks and reflection-in-action via double loop (Argyris 2005) and dialogic learning (Van den Berg  Thomassen 2017).
Seminars are organized by two lecturers and several guest lecturers (journalists with differing cultural backgrounds, fields of interest and practical experience) to open up a semi-structured professional conversation with the students on issues such as the difference new media technologies and platforms make in the way that emotion connects citizens and journalism or the roots, consequences and prospects of diversity in the newsroom. Students report that these 'conversational lecture series' help make explicit professional experiences and personal motives and thus being more self-reflexive and transparent, offer useful feedforward that helps to not just make better productions but also be more deliberate and verifiable in the process of producing journalistic stories and to become more aware of the fact that everyone involved in these seminars is both a student and a teacher (lifelong learning).
In this workshop we will explore the challenges and opportunities this educational transformation to being lifelong learning educators has for all stakeholders involved. And examine which didactical skills and reflective practices, and what professional role perception and (conceptual) educational framework are needed for J-schools and individual lecturers in journalism education to become more participatory, innovative and reflective learning communities.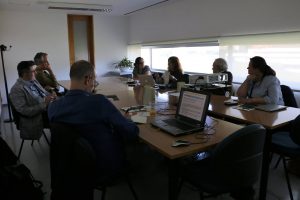 W3 – Education for Media Professions in Europe: TWG Research Initiative| Michael Harnischmacher (University of Passau, Germany) | Sala de Reuniões (2.28)
Coming back to a suggestion proposed at the first "Trial and Error" Conference in Tilburg 2017, we want to discuss the possibility, theme, and shape of a comprehensive European research project on education for media professions, carried out by our Temporary Working Group over the next years.
Although research interest and initiatives in higher education for media professions have grown over the past few years (the existence and continued success of our TWG being an indicator of this as well…), there is still a frightening lack of reliable, scientific knowledge on the structure, didactics, success, and changes of education programs in Europe. We want to use the ideas, knowledge, and network provided by our TWG to develop a research program.
In this workshop we want to identify questions and areas of interest that are important to us and where we lack scientific insight. We also want to think about approaches and methods. This workshop is meant as a starting point for anyone interested in joining such a research initiative. There is no prior preparation necessary – just bring your knowledge, experience, and ideas, so we can start developing a truly relevant project together.