Lisbon and Porto airports receive flights from numerous international destinations. If possible, it is recommended that participants travel to Porto airport, the closest to the city of Braga.
From Porto airport to Braga
Porto airport is located about 45 km from Braga. Traveling to the city hosting the "Europe as a space of interucltural dialogue and mediation" Congress will be very easy. If possible, the following option is recommended:
GET Bus:  direct bus from the airport to the city of Braga (price: 8,00 €)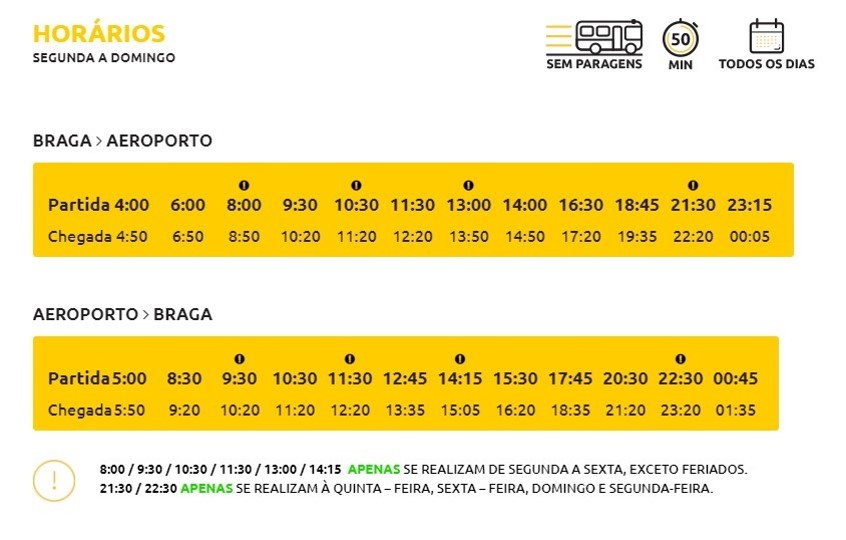 Other Options:
Subway / Train (Train)
At the airport, you can take line E (violet) from the Oporto Metro, directly to Campanhã train station (cost approximately € 2.00). In Campanhã, you can take a train (train) to Braga (Braga central station is the last stop of any train with this destination). Train prices vary between € 3.00 and € 12.00 (fast trains are the most expensive). Regular trains run around Braga every 30 minutes (at certain times every 60 minutes). Tickets can be purchased at the station's automatic machines.
Taxi
It is also possible to travel by taxi to Braga. The price of the trip will be around € 60.00 (with extra costs for luggage and night services and weekends). Anyway, for those who travel in a group, being able to share this route, the taxi can be a good option.
From Lisbon airport
It is also possible to travel to Braga from Lisbon airport, which is about 400 km from the city. However, if the participant does not have a better flight option or wants to travel to Lisbon, the train to Braga will be the best option. In this way, you can take the Lisbon Metro at the airport (red line) to Oriente (second stop for those leaving the airport) (price: 1,90 €). At Gare do Oriente you can take the fast train to Braga 'ALFAPENDULAR'. There are four trains per day for this route (7h09, 14h09, 16h09 and 19h09) (price: 32,80 € in 2nd class). Tickets for this train can be purchased online at www.cp.pt